Mindfulness
Winfield Artists offers several ways to learn about and engage in mindfulness practices.  First, you might be wondering: What are mindfulness and mindfulness meditation?  Mindfulness has been described as "the awareness that arises from paying attention, on purpose, in the present moment and non-judgmentally" by Jon Kabat Zinn, the founder of Mindfulness Based Stress Reduction.  Mindfulness meditation simply means setting aside specific time to rest the headspace and remind oneself to be mindful, that is: to be present in the moment with intention and without expectation.  Mindfulness is a practice that one can engage all day, every day.  Because it is easy to get caught up in the stresses of thinking about the future (to-do lists, worries, upcoming events) as well as the anxieties of the present (family obligations, financial strain, social justice issues), it is helpful to use the quiet space of meditation to regularly engage or revisit one's mindfulness practice.
Dr. Swindall has practiced meditation for over twenty years and holds a 200-hour training certificate in multi-faith and inter-disciplinary meditation and contemplative practices from the Open Center in NYC.  She can help you or your organization learn more about mindfulness and engage in a recurring practice.  You can book a one-on-one session(s) to develop or foster your mindfulness practice.  She leads weekly mindfulness meditation sessions live via Zoom.  Email Winfield Artists to learn more about joining these classes.
If you would like Dr. Swindall to visit your business or organization, she can offer a one-time introduction to mindfulness that includes background information and a meditation practice.  She can also tailor a series of sessions that are geared toward the needs of your constituents.  Examples include sessions on stress relief, building focus and resilience, or the history of mindfulness and meditation practices in the U.S.  Because mindfulness aims to ground and connect, mindfulness exercises can be helpful for groups embarking on social justice activism or when having group conversations about race and other social justice issues.  Dr. Swindall has worked with charity groups, educational groups, sports teams, and community organizations.  She is happy to discuss the needs of your group.  If you are interested in combining mindfulness with humor, check out Winfield Artists' program Letting Go With Laughter.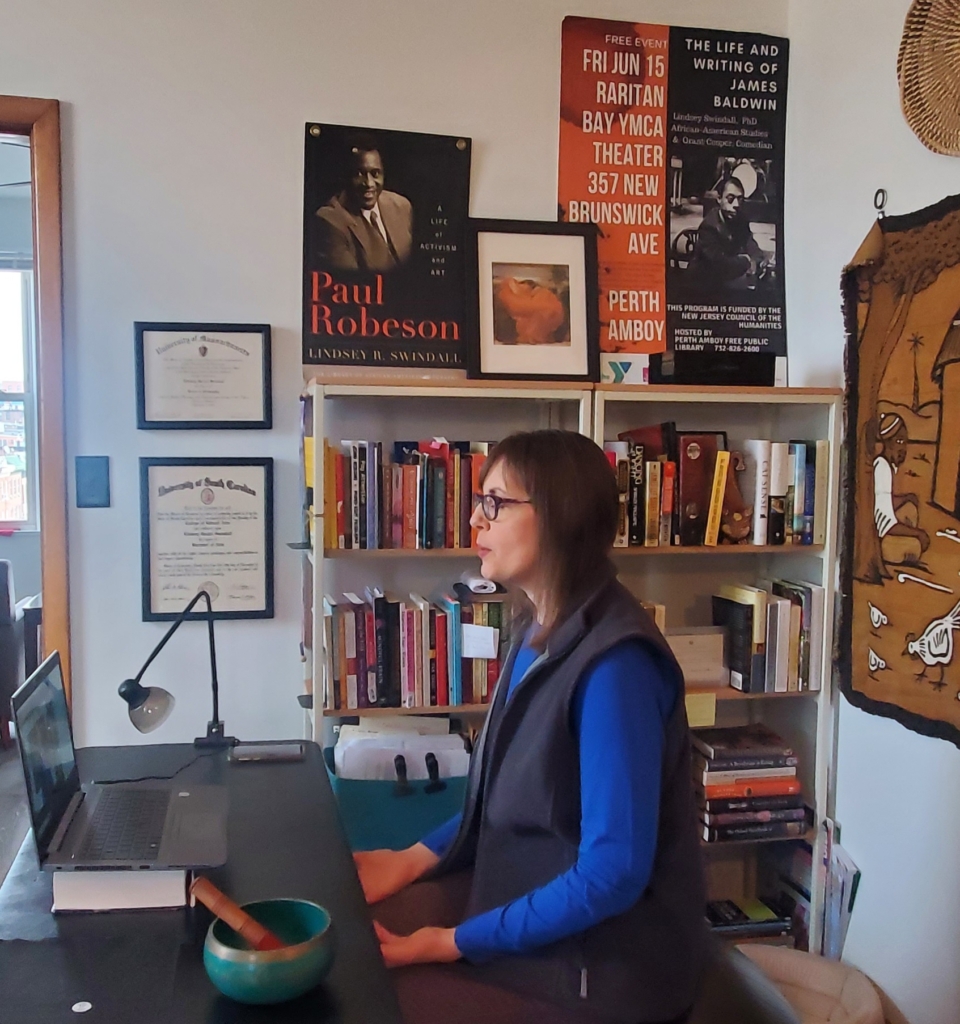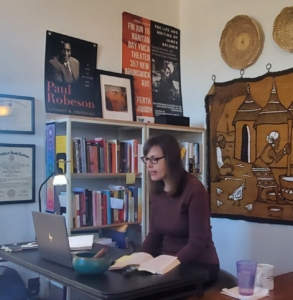 Testimonials
"Lindsey Swindall has greatly improved my meditation practice. With quiet sittings interspersed with breathing exercises, gentle stretching and guided relaxation, Dr. Swindall not only facilitates participants' practice, she guides sessions with wise and imaginative counsel that enriches the experience considerably."  -James E. McClellan III, Ph.D.
"Lindsey's guided meditations are the perfect way to let go of my week and re-set myself to welcome the weekend. I especially appreciate the short descriptions of nature she shares before extended times for relaxation.  Her guided meditations are always relaxing, delightful and uplifting."
-Kim Díaz
"Lindsey's mindful meditation guidance has helped me learn that it is important to take a pause, regardless of how busy, and regain focus and live more in the now. She is a patient and kind meditation facilitator, and I always feel energized and calm afterward."
"Excellent guide to mindfulness."   -Paul R. Paradise
"Lindsey's mindfulness classes have been such a welcome respite from the extraordinary stress of the past year.  Her gentle guidance is just right for me—neither too little nor too much–and I appreciate the thoughtful text and mantras she offers for meditation focus. I look forward to continuing this healthful practice in the year ahead."  -Cynthia S.
"Lindsey's mindfulness classes are intimate and personal, despite being led over Zoom. She takes the time to make each class have a central theme, making each one different. My favorite classes were her series focused around the writing of Ralph Waldo Emerson. Her classes helped me feel connected during a time of isolation because of COVID-19."
"I'm new to the practice of meditation, but Lindsey makes it very accessible and absorbing."  -Claire
"Lindsey Swindall is the best meditation teacher I've had, and I've had many in my life. She not only knows many meditative and yogic techniques, which she combines into an appealing blend. She is also kind, funny, sensible, never dogmatic or overbearing. She has a mysterious ability to calm me, almost instantly, as I watch and listen to her. I feel very fortunate to have found her."

-John Horgan, science journalist and author, Rational Mysticism.

Check out John's blog in Scientific American about meditating with Dr. Swindall during the pandemic: "Meditating During the Plague"