Paul Robeson: A Life of Activism and Art
This interactive, multi-media program is based on Dr. Swindall's books about Robeson's life and the organizations with which he worked.  It opens by contextualizing Robeson's life within the national dynamics of segregation and Black institutions as well as the idea of a long civil rights movement.  The program tells Robeson's story with historical documents obtained through Dr. Swindall's many years of research.  Actor Grant Cooper does dramatic readings from Robeson's memoir and original speeches that bring his words to life.  Cooper and Swindall reenact key interviews with Robeson.  Historical photos and music clips are utilized as well.  This program is interactive using a call and response format to engage audience participation and analysis throughout the presentation.
Robeson had an uncanny ability to bring disparate groups of people together and we bring that spirit to this program by highlighting Robeson's multifaceted legacy with a range of audiences.   Swindall and Cooper have taken Robeson's story into dozens of venues including middle and high schools, colleges, and community groups.  We have performed at the Robeson Center at Rutgers and the Robeson Center for the Arts in Princeton (Paul's birthplace).  The program offers an overview of the intersection between Robeson's art and activism.  However, if a host desires, we can tailor the content for specific audiences.  For example, we have done programs for young audiences that focus on academic achievement.  We can also focus on themes such as the Harlem Renaissance, athletics, African American spirituals, theater, early film, or post-WWII civil rights.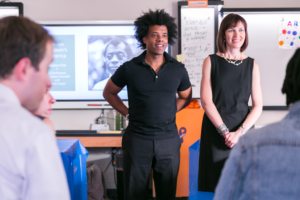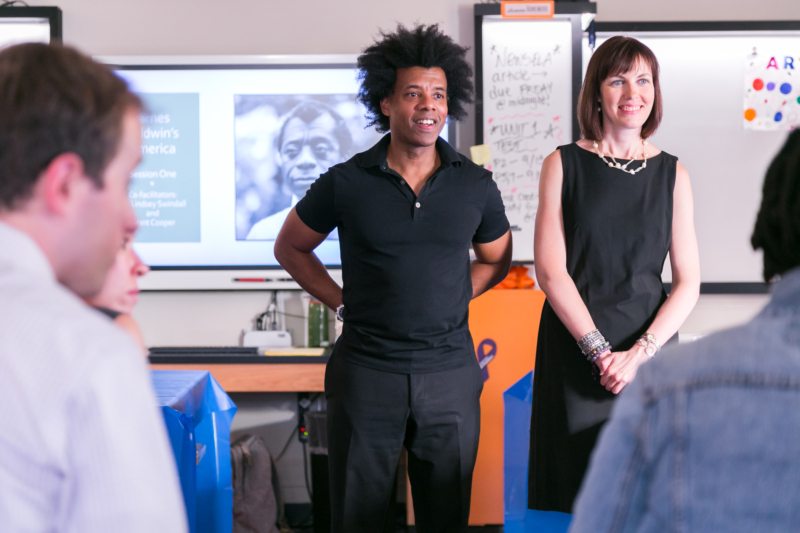 Testimonials
"I really enjoyed the speakers' presentation. I had never learned about Paul Robeson before and I really appreciated his ideas on the responsibility of artists to fight for positive change – I think creating this context for Berklee students of their place as musicians in society is vital and is not mentioned enough. The speakers' presentation was easy to follow and they made it interesting by including someone in character as the person they were discussing. It's also so important that Berklee students learn about African-American spirituals in our classes, especially considering our school's mission statement ("Founded on jazz and popular music rooted in the African cultural diaspora . . ."), so I thought it was cool that they included audio of some of the songs Robeson performed. Overall I definitely appreciated the presentation and the chance to learn a lot about someone who should probably be discussed much more frequently in conversations about musicians and social change."
"I thought it was interesting that they talked about Paul Robeson because I was writing about him in my essay and the information from someone who just wrote a book about him was really helpful. It was also a great idea to play recordings of him talk and sing, because after hearing his voice and technique of storytelling this confirmed my claim in the essay, which is that clear and emotive speaking skills are the cornerstone in entertainment. Thank you for having the presentation!"
"It is presentations like the one we've just had [that] help me understand this nebulous issue [of racism], and how negatively it affects everyone and anyone who even seem to participate in it, be they the discriminated or the discriminator. Just as a side, this also makes me think about my own country, where it faces a similar issue between the indigenous population of Māori people and everyone else…."
"Wonderful to have you all in class.  I'm reading your book everyday!!!"
"[Swindall] and Cooper made an unlikely but really effective performance team."
"Cooper is a really talented guy."
Paul Robeson: A Life of Activism and Art – Biography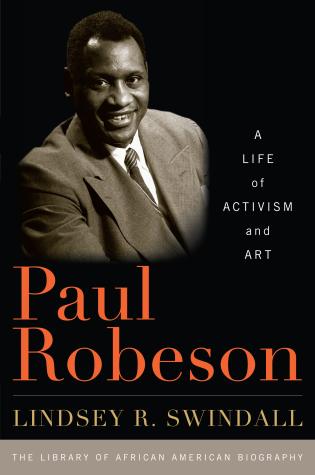 Paul Robeson: A Life of Activism and Art is the biography of an African American icon and a demonstration of historian Lindsey R. Swindall's knack for thorough, detailed research and reflection. Paul Robeson was, at points in his life, an actor, singer, football player, political activist and writer, one of the most diversely talented members of the Harlem Renaissance. Swindall centers Robeson's story around the argument that while Robeson leaned toward Socialism, a Pan-African perspective is fundamental to understanding his life as an artist and political advocate. Many previous works on Robeson have focused primarily on his involvement with the US Communist Party, paying little attention to the broader African influences on his politics and art. With each chapter focused on a decade of his life, this book affords us a fresh look at his story, and the ways in which the struggles, successes and studies of his formative years came to shape him as an artist, activist and man later on. Robeson's story is one not simply of politics and protest, but of a man's lifelong evolution from an athlete to an entertainer to an indispensible man of letters and African American thought. Swindall neatly outlines the events of Robeson's life in a way that freshly presents him as a man whose work was influenced by more than just his circumstances, but by a spirit rooted in dedication to the African's place in American art and politics.
Reviews
Swindall's concise biography is a great introduction to this iconic African American artist, athlete, and activist. Swindall contextualizes Robeson's life within larger global, political, and racial spheres, stressing that "the African diaspora, its culture, people and politics, was at the heart of his artistic career and political activism." The author draws heavily on existing secondary sources, including biographies by Martin Duberman (Paul Robeson, 1989) and Paul Robeson Jr. (The Undiscovered Paul Robeson, CH, Sep'01, 39-0207), as well as from earlier works and primary sources, but does not footnote in a traditional academic way. This is problematic at times. Swindall relies heavily on the Daily Worker and other communist or communist-influenced publications, yet fails to identify this political affiliation. While Robeson was certainly the target of rabid political attacks and the mainstream media contributed to this pillorying, a more balanced primary and secondary form of documentation would have added to the work. However, Swindall aptly demonstrates Robeson's remarkable multifaceted career, including politics and his stage and field successes. The author does not shy away from Robeson's psychological problems in the final quarter of his life. Overall, a fine introduction to Robeson that stresses his life as a public figure. Summing Up: Recommended. All levels/libraries.
-Choice
Paul Robeson truly was a Renaissance man: actor, singer, activist, athlete, scholar. Wildly popular, he was also controversial, but, above all, he was a world citizen, even as he nurtured a deep kinship with Africa and its people. During the Cold War, his outspoken political views and socialist tendencies led the U.S. government to label him a subversive. He even had to wrestle with the State Department over his right to travel overseas. 'He opted for values over comfort; struggle instead of ease,' writes Swindall. In this short but cogent assessment of Robeson's remarkable career, Swindall seeks to demonstrate, which she does with great skill, how 'the African diaspora, its culture, people, and politics, was at the heart of his artistic career and political activism.' She considers his roles in such plays as The Emperor Jones, All God's Chillun Got Wings, Othello, and Show Boat; the invaluable time he spent in Harlem when it was known as 'the Negro capital of the world;' and his fruitful years overseas. A thoughtful discussion of a most complicated and fascinating man
-Booklist
[This book] follows Robeson's remarkable career as an actor and activist, attempting to rescue his contributions to the stage and the political scene from the pall cast over them by a McCarthy Era blacklist. Robeson is most famous for his career as an actor and singer—he starred as the first African-American Othello on Broadway, and as Joe in Show Boat—but he also took a deep interest in politics and social justice. Swindall's accounting is thorough and straightforward. . . .The result is a surprisingly tidy. . . account of a somewhat untidy and certainly exceptional man.
-Publishers Weekly
In Paul Robeson, Lindsey R. Swindall. . . . 'aims to demonstrate how the African diaspora, its culture, people, and politics, was at the heart of his artistic career and political activism'. . . .Throughout the book we are also confronted with portraits of the man, who struggled to balance a career, his marriage, and his health. The most compelling elements of Swindall's narrative are in the details — the moments that provide little-known pieces of Robeson's character or struggle, such as his attendance at concerts by Duke Ellington and Ella Fitzgerald, or the requests made by Fidel Castro, Kwame Nkrumah, and Malcolm X to meet with him after his retirement in 1963
-Journal of American History
Swindall does not shy away from dealing with Robeson's extramarital affairs, the tensions in his marriage with Eslanda Goode Robeson, and the disagreements that Eslanda and her son Paul Robeson Jr. had over Paul Senior's psychological treatment. She counters any portrayal of Robeson as a dupe of communist leaders by insisting that he strategically withheld criticism of the USSR, because he did not want to aid the agenda of right wing conservatives. . . .Swindall has given those who are unfamiliar with Paul Robeson a very readable introduction to the life of a man who, because of his politics, is too often silenced from the American mainstream.
-The NEP Era: Soviet Russia, 1921-1928
Paul Robeson was America's greatest Renaissance person, but he has yet to receive the full acclaim and recognition he deserves. Since his death in 1976, a major resurgence in scholarly attention has increased public attention to his accomplishments as an athlete, artist, and political and civil rights activist. A key figure in restoring Paul Robeson to his rightful historical place is Lindsey Swindall. Her earlier book, The Politics of Paul Robeson's Othello, explored Robeson's groundbreaking performances of Shakespeare's magnificent tragedy in a powerful historical and political context. Now, in Paul Robeson: A Life of Activism and Art, she has broadened public understanding of Robeson's entire life as an artist committed to fundamental social change. This book locates his extraordinary accomplishments in the tumultuous events of 20th century history, offering both academic and general readers a powerful vision of the man, his passionate social vision and commitments, and the times. It is a stellar achievement.
-Paul Von Blum, Ralph J. Bunche Center for African American Studies, UCLA